We use nothing but our own Yeowww! 100% organically grown catnip in our toys. No fillers or toy grade catnip. Your cat will ask for us by name!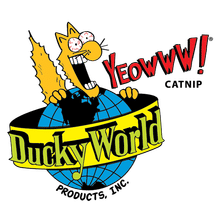 All Pet Supplies & Equine Center is proud to carry Ducky World in Springfield, Missouri. The home of the world-famous catnip toys that have felines across the planet saying "Yeowww!" All of our toys are made in the USA and are 100% stuffed with only the finest, organically grown catnip.
Yeowww! Catnip Toys
Triangles, Sour Puss! Lemon, Apple, Big Baby Cigar, Cigar, Banana, Catnip Pillows, Green & Yellow Fish, Pollock Fish, Hearrrt Attacks, Rainbow, Catnip Sardines, My Cats Balls, Cigar Three Pack Tin
Yeoww! Catnip Holiday Toys
Yeowww!-loween Pumpkin, Stocking, Kris Krinkle, Dreidel Krinkle, Catspurrr The Friendly Ghost, Yeowww!-Tide Candy Cane, Rugular Gift Bundle, Kris Krinkle Bundle, Dreidel Krinkle Bundle, My Cats Balls, "Stinkies" Catnip Sardines
Come visit our pet & equine supply store in Springfield, MO specializing in quality food & supplies for birds, cats, chickens, dogs, horses, small pets, & more.